Attention Apartment Hunters…
Are you tired of looking at different apartments to rent without having any idea which one is the best fit for you and your family?
What if you could quickly and easily compare several apartment complexes and instantly know which one was the best fit for your
specific

individual criteria?

Introducing the Rating Comparison Spreadsheet, the ULTIMATE Apartment Searching Spreadsheet Tool!

Hello, my name is Nick and I've had this exact same problem multiple times. 16 to be exact. I've moved 16 times in four years due to school, co-oping, graduating, changing jobs, etc. I used all of my moves to improve my apartment hunting spreadsheet, thus making the decision process painless. I knew exactly which apartment was the best for me to rent.

Before you begin searching for a new apartment you need to ask yourself a question: what are you looking for in an apartment? You need to know exactly what you want and need in every aspect of an apartment—its location, size, price, utilities, facilities, rules, safety, insurance, amenities, the lease and its length, and the landlord as well. All of the factors you have probably thought about, and many more that you HAVEN'T thought about, are listed out in the Apartment Search Spreadsheet.

Little to no knowledge of Microsoft Excel is required. The Apartment Search Spreadsheet is completely automated – no formulas need to be entered or edited. The only thing you have to do is enter each apartment's renting information, choose which category of features is most important to you, then view the results and make your decision about which places to contact.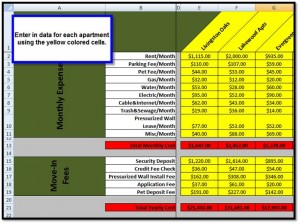 How it Works
Your COMPLETE Apartment Hunter Companion package includes:
The Apartment Search Spreadsheet (.xls)

The ULTIMATE Apartment Search Guide eBook (.pdf)

Roommates Shared Apartment Expenses Spreadsheet (.xls)

Apartment Search Checklist (.pdf)

Give Yourself a Raise eBook (.pdf)
See what people are saying about the Apartment Search Spreadsheet!
"Your spreadsheet looks fantastic! I can't thank you enough!" -Aneta
"Terrific spreadsheet. Perfect for tracking apartments." – Kevin
"I just moved and am having trouble keeping up with my apartment search. This one looks awesome!" -Woody
"I was looking for a good spreadsheet for apartment hunting, and I was impressed by yours." – Alec
"I just came across this page, and am facing a move in a short time. Your template seems to streamline a lot of decision-making and is well designed." – Sandy
"You already did the work for me!" – S.O.
"I plan to use your spreadsheet for my condo search. I need to change quite a bit, but it would save me an immense amount of time" – Zokiki
"WOW, what an AWESOME job! …I just spent a good hour trying to figure out how to do something like this before going on the internet. but thank GOODNESS I did." -Stephanie
"This is exactly what I am looking for!" – Missy
"this is a fantastic spreadsheet!" – Monica
"Wow, this is great and exactly what I was looking for." – Vary
"I LOVE THIS! And I love you for creating it." -Laura
"obviously you are a guru at this." – Valerie
"This is by far the best comparison sheet for apts I've seen." – Leo
"I just started a spreadsheet of my own, but after looking at this, there's no way mine could compare haha." – Howard
"Will save me alot of time trying to create my own for apartment hunting. Less time creating, more time finding my dream apartment!" -Kara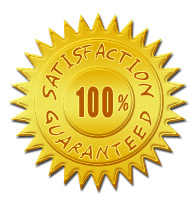 Money Back Guarantee –
Try it Risk FREE!
60 day money back guarantee (and you can keep the book just because)
Like I said earlier, you can place your order right now and start benefiting from this entire system 30 seconds later. All for a one time fee of $4.99! The way it works is simple and fast. Just click one of the blue links (like this one: order now) and you'll be taken to my 100% secure order page. It works perfectly with both MAC or PC computers, provided you have Microsoft Excel (or some other program with can open .xlsm files). The two Microsoft Excel files are contained in a .zip file.
As soon as your order is processed (takes about 45 seconds), you'll be taken to the "Download Page" where you can instantly download the Apartment Search Spreadsheet included within the complete package as a .zip file.

Plus: If you're not 100% satisfied for any reason, just ask for your money back with 60 days and it's yours!
Not ready to buy yet? Read through our article about how to use the Apartment Search Spreadsheet for more detailed information.