Okay, I admit it. Like a lot of you, my apartment is a little messy. Okay, a lot messy. Apartments are not the easiest thing to keep organized. Beyond the space issue, there's often several rules that have to be followed that wouldn't otherwise be an issue. "What do you mean I can't put these super useful shelves up?!" Ringing any bells? Countless times I've come across something I absolutely needed to keep (or purchase) but then the question comes in "WHERE AM I GOING TO PUT THIS? Sometimes it feels like it might be easier if I sleep in my car and keep my stuff up here." Totally logical, right?
It's no fun feeling cramped. Living in crowded quarters can affect your mood, even your lifestyle, leaving you feeling stressed, tired and out of sorts. You come home from a long day at work, wanting to be alone, or with your loved ones, only to feel like everything you own is staring you down, waiting to be put away in a place that doesn't seem to exist in your tiny apartment.You need some help. You're about to explode.
Well no worries, my friend. We're here to help. Here are some creative space saving ideas that are sure to leave you feeling a little less confined and ultimately free to relax and have fun in your suddenly spacious abode.
1. Only keep what you really need
Let's start with the obvious. If you don't need it, get rid of it. For anyone who doesn't live in a small apartment this seems like common sense. For people living in a small apartment, well it's just not that easy. The best thing to do is really think about whether or not you need it. For example, do you have a kitchen table because you need it, or because that's the standard? Do you have fifty pairs of shoes and only wear five? Sometimes the answer is easy. Other times, it's not. If anyone walked into my apartment for the first time they might think "why on Earth would you squish a sofa, a love seat AND a chair in here?! A sofa is enough!" Well, for most people, yes it would be enough. But, despite our small space, we often have three or four people over. Never get rid of what you need and never keep what you don't.
This is a popular de-cluttering tip for clothing. Turn all of your hanging clothes around. Every time you wear something turn it back around. Whatever is still facing the original way in six months toss out or donate.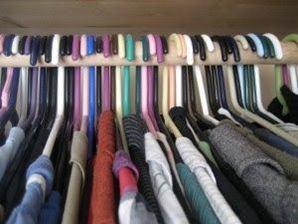 Source: http://elytsbiz.files.wordpress.com/2013/09/backwards-wardrobe.jpg
2. Hang It Up
Hang all those extra clothes and winter jackets up in a closet. Increase your hanging capacity by adding more rods. Need a place to store all those pesky spray bottles? Buy a tension rod or a short shower curtain rod and hang them up underneath the sink. Or, better yet, hang them from the wire rack in your laundry room. They're easy to grab and out of the way! Need more space in the bathroom? Get a three-pronged door hanger and hang up the towels. Easy peasy!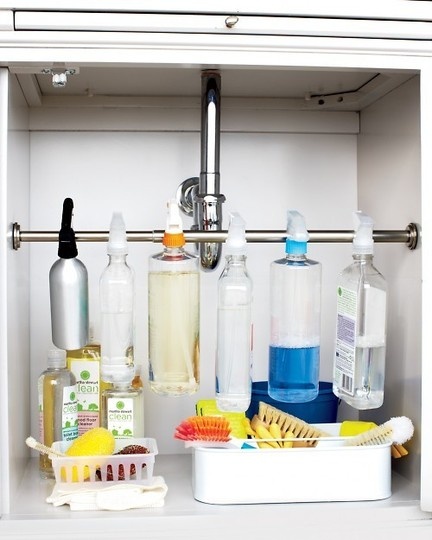 Source: http://diariodaalfaias.com.br/2013/04/11/dica-da-alfaias-chega-de-bagunca/
3. Hook it up
Let's talk about one of the best apartment tools ever…. command hooks! One thing I often find irritating about space saving tips is the constant use of things that require damaging the walls. There is a good portion of apartments that simply don't allow that. Command hooks allow using up the wall space without leaving a trace. Another great tip that I've found is using command hooks to organize things like pot lids on the inside of cupboards.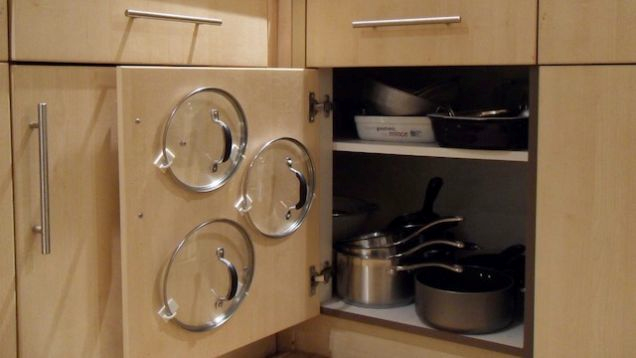 Source: http://lifehacker.com/5983833/use-adhesive-hooks-to-organize-your-pot-lids-and-save-cabinet-space
Scarves? Jewelry? Coats? Purses? Bags? If you have an empty wall in your bedroom — or even the closet — then you have room to store your various accessories. You can buy simple plastic coat hangers to place along the outskirts of the room or you can break down and doll up an old chest-of-drawers like this person did.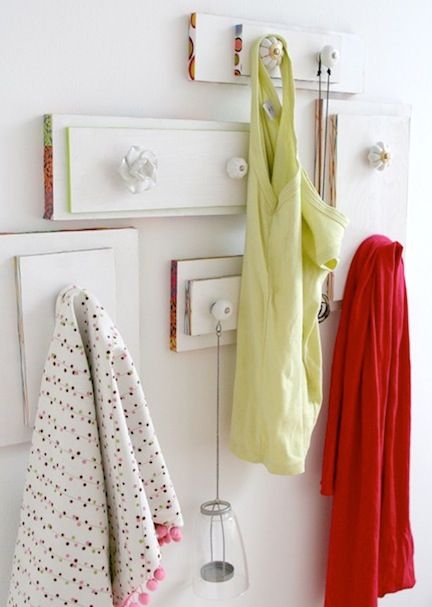 Source: http://www.pinterest.com/pin/45528646204907431/
4. Wicker baskets for towels
Speaking of damaging walls, another tip I see quite frequently is the wine rack for towel trick. This involves hanging a wine rack up in a bathroom to keep your towels organized and accessible. This trick is awesome…for people who can put screws in the wall. I was lucky enough to have a linen closet in my apartment, but if you don't wicker baskets can be your friend. Depending on how heavy your baskets are you can do one of two things; you can hang a wicker basket on your bathroom wall using command hooks (many wicker baskets have large loops within the wicker where you can place the hooks) or you can simply store them in a wicker basket on the ground, under the sink, on the back of the toilet… you get the idea.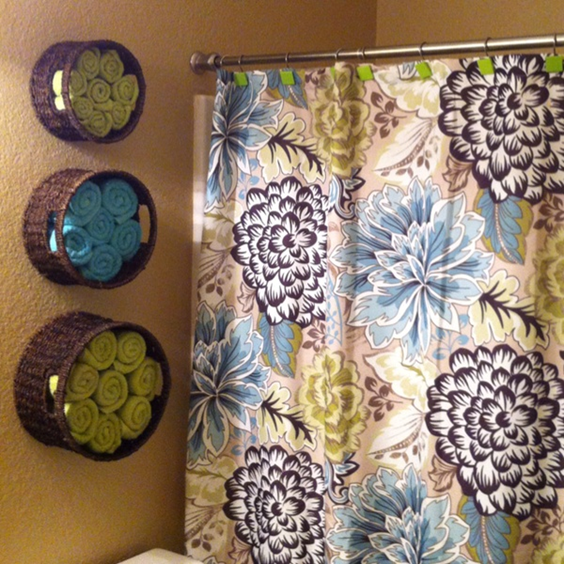 Source: http://1.bp.blogspot.com/-kCnJghaXtK8/UADljpeVItI/AAAAAAAAC-Q/eOIqi9HF8Zw/s1600/41869471505977269_6xchLujo_f.jpg
5. Use the back of cabinets and doors
To continue with the bathroom theme, something I've found extremely useful is shoe organizers that go on the back of doors. If you have a lot of shoes, you can obviously use these for shoes, but you can also use these for bathroom products. When I lived with some female coworkers we had enough stuff for a small pharmacy. This lead to the one cupboard we had in the bathroom getting disorganized and full. Throwing a shoe organizer over the door allowed us to stay organized. And even better – it's easy to do! Purchase and throw. This concept can be carried through to several other products – cleaning supplies, art supplies, under garments… whatever will fit!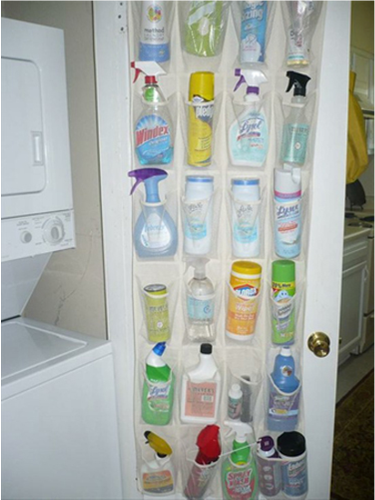 Source: http://blog.storage.com/wp-content/uploads/2013/01/3CleaningSupplies.jpg
A mounted paper towel dispenser and a small shelf for cleaning supplies can do a lot to clean up the clutter and create more space! (Not only that, but it makes those items a lot more accessible!) For even more space, add a shelf on the other side for things like aluminum foil and plastic wrap.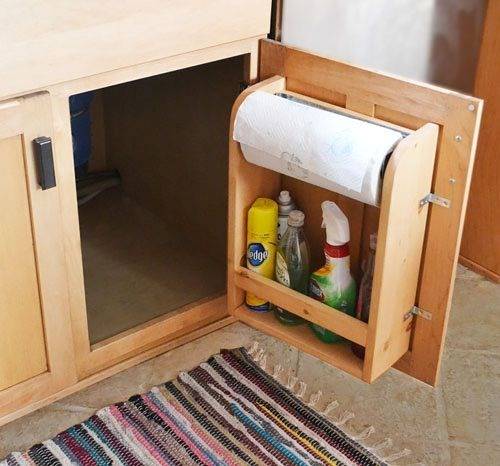 6. Use all available wall space
Another product that I love is shadow boxes. If you can use screws in your apartment the obvious answer is to use them as shadow boxes. But, if you can't, they can be used in creative ways as well. The great thing about shadow boxes is they have storage in them as well as on them. One of the coolest things I've seen done with them is turning them into a CD rack. If you have a lot of CDs or DVDs, these easily stack so you can create your own rack. This is especially useful because you can make it any size you want. Need it short? Need it thin? No problem! You get to put them together however you want. The other great thing about these is you can purchase them in nearly any size. Get creative with them! Make more space on a desk, create a bookshelf…whatever you come up with!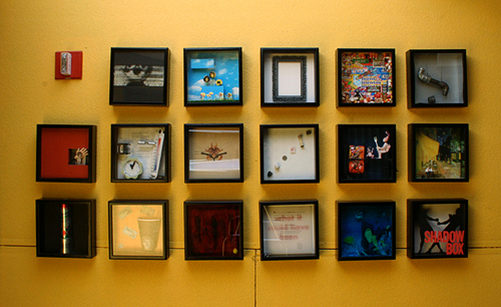 Source: http://farm3.static.flickr.com/2048/2493284278_682e430766.jpg
7. Raise the Bed
Now that you're an adult and you don't have to worry about bogeymen under the bed anymore, you can buy a pack of bed risers and help yourself out. An extra three, to five, to eight inches of space will give you all the room you need to store all those extra pillows and bed linens, winter clothes and more.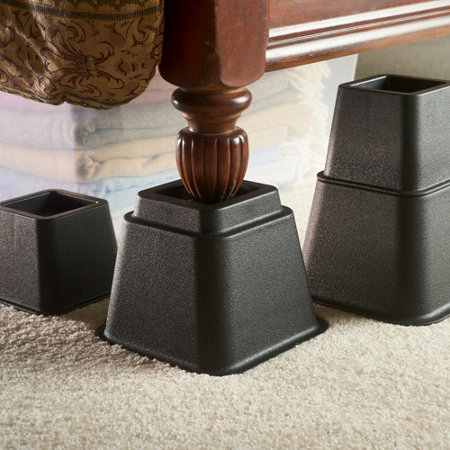 Source: http://www.improvementscatalog.com/adjustable-bed-riser-system/275631?redirect=y
8. Go Vertical
Many of us look to the sky for inspiration, so why not look to the ceiling? With the help of shelves and storage cubes, you can create an entire wall of usable storage space. Or, if you prefer, you can tone it down a bit and mount a single row of storage cubes at the base of your ceiling to create a makeshift bookshelf.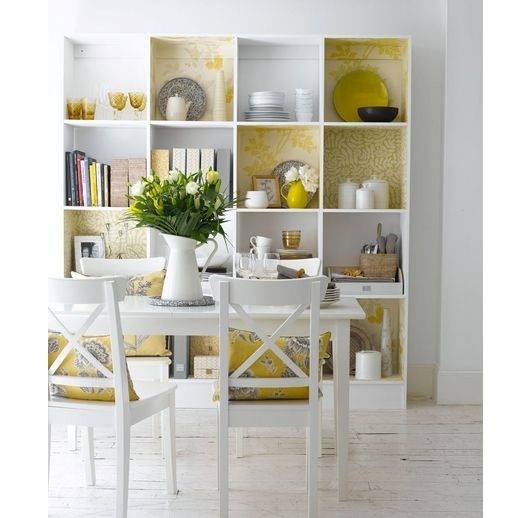 Source: http://www.homeandgardendesignideas.com/ideas/peg-19392
9. Go Versatile
Think inside the box. Or, better yet, inside the chair. Or inside the couch. There are a number of products on the market today that offer both comfort and storage. Use them to your advantage. Let's move on to something specific to living rooms – ottomans and coffee tables. These two pieces of furniture have two things in common – they're super convenient and they take up a lot of space. Here's the good thing: you can use both of these for storage purposes! Tons of companies sell ottomans with storage in them. If you need a coffee table, make sure to get one that you can slide things under. And I'll do you one better – did you know you can buy these two products as one? Well, you can! Versatile furniture is the best!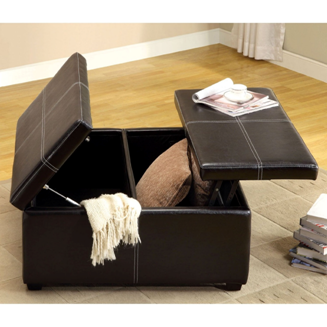 Some furniture is specifically sold to be versatile, like the ottoman coffee table. Other pieces you can make versatile yourself. For example, we have a drawing table. You know, one of the ones that tilts down to make it easier on an artist's posture? Well, besides using it for the obvious we also use it as a make shift office space. There are a ton of tricks like this! For example, in bachelor pads using small beds as a couch.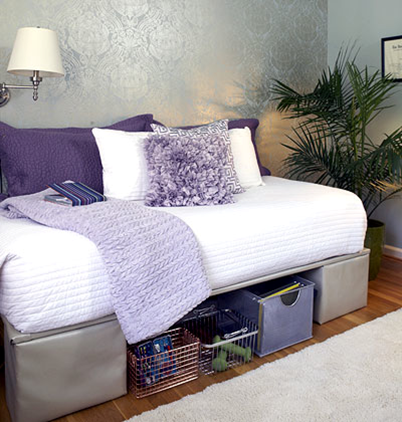 10. Cut corners
A properly positioned entertainment system — placed kitty-corner to two adjoining walls — not only looks nice, but it creates an out-of-the-way storage space behind the TV, perfect for those rarely used odds and ends.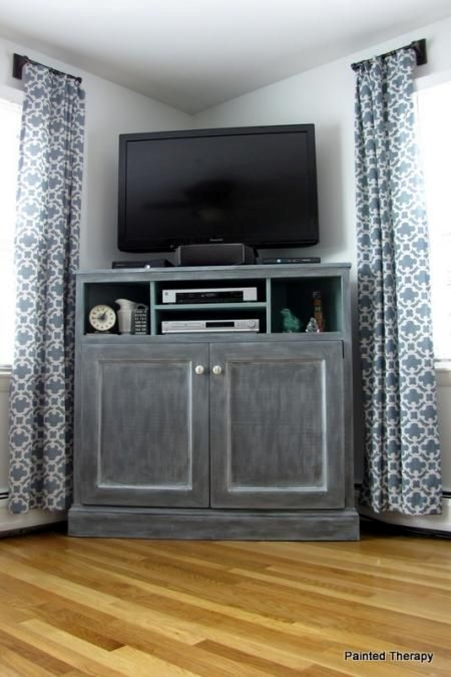 Source: http://ana-white.com/2012/06/plans/tall-corner-media-console
Another example of how to cut corners is to use a caddy. A standing shower caddy is great for the bathroom, but it can also be used for other things. Set one up in the corner of your kitchen and, voila, you suddenly have a space for a couple of hand towels and all those spices of yours. Put one in the corner of your bedroom and, lookie here, you have the perfect place for all those objects that were just kind of floating around.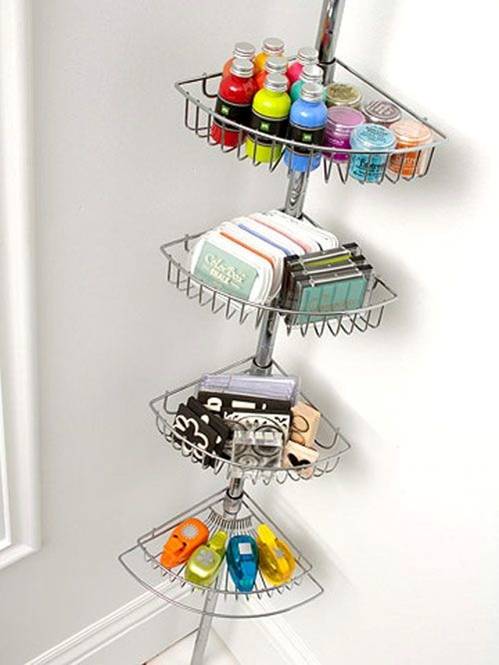 Source: http://www.pinterest.com/pin/267893877805348702/
11. Use the inside and outside of the fridge
Depending on the space, the fridge can be used for more than just storing sodas and frozen pizza. You can use the space overhead to store all kinds of non-refrigerated items, such as cereal, oatmeal, small appliances and even cookbooks. And, during the summertime, if you're looking for some extra room in the cupboards, put a few glasses in the freezer. It'll help free up space and provide you with some nice cold cups for that delicious lemonade!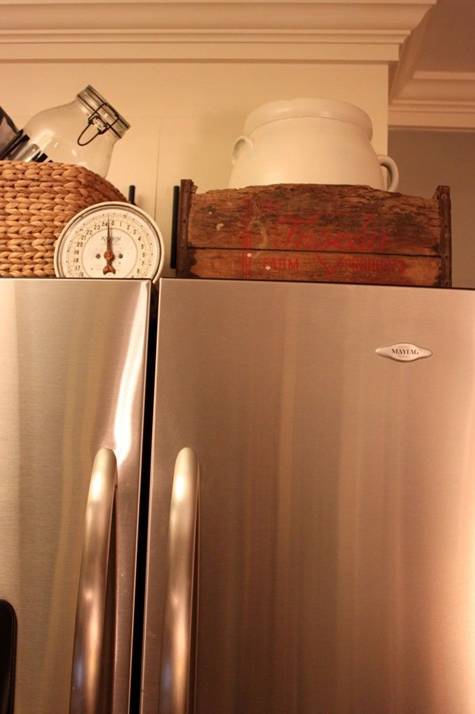 Source: http://www.pinterest.com/pin/268527196501575206/
Let's do one more thing about bins – using them in the fridge. Fridge space isn't something that always jumps to mind when people are trying to organize a small apartment. Unfortunately, small apartment probably equals small fridge. So this is a real problem. The easily solution to this is bins and racks. I actually found a specific line of products that you can use to organize your fridge at this site  but we just used regular old rubbermaid bins from a department store.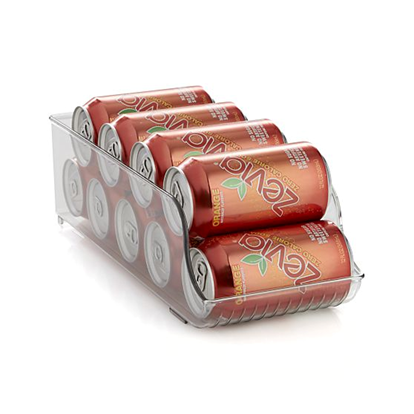 Source: http://www.crateandbarrel.com/fridge-soda-can-organizer/s310576
12. Pack a Suitcase
You haven't been on a trip in months. Use your suitcase. Shove it full of clothes. It's the perfect place to store all those wintry items you don't need until next year. And then, once the temperature starts to drop, swap the sweaters out for the T-shirts!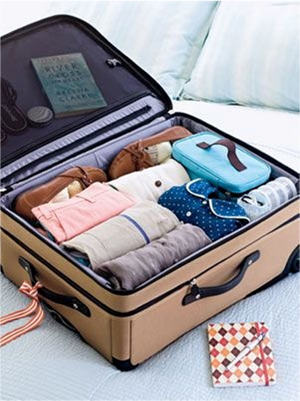 Source: http://www.pinterest.com/pin/57702438949742059/
13. Book the Nooks and Cram the Crannies
There are typically an array of small spaces in every apartment that can be better utilized for storage. Next to the washing machine — perfect for mops and brooms. Between dressers — great for stacking books. Under the couch — an awesome place for a yoga mat. Get creative. Have fun.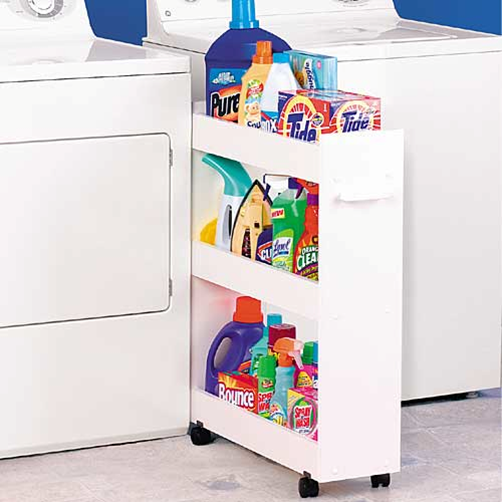 14. Divide the rooms
A small apartment often times is missing rooms that would usually be found in a house; or these rooms have no separation. Visually this can make the apartment seem much smaller than it actually is. Dividing up rooms is easy and creates the feeling of more space. This can mean placing a couch and side table together creating a wall, using a rug for a specific area, or using curtains. There are so many ways to accomplish this. Use what works for your tastes and your apartment. The other important thing is to remember to keep it practical. Want an office space in your living room? Move a couch to where you want your living room to end and place a table on the other side. This not only visually separates the areas, it also makes the space you are using to do so practical.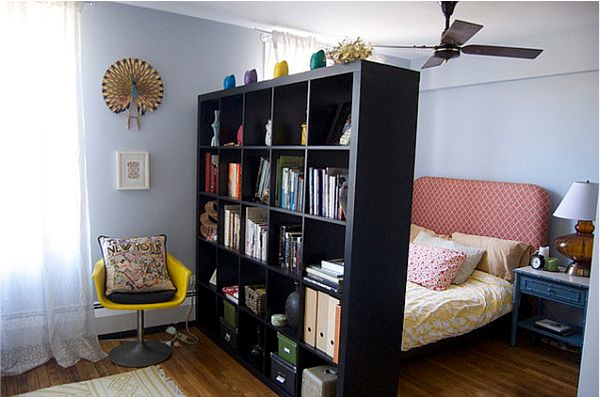 15. Modular kitchen appliances
THESE THINGS. We all know how valuable counter space is in a small apartment. One countertop appliance seems to take up over half the counters! Luckily this company came up with a solution: four appliances in the space of one! The only down side is that from my understanding you have to take the an appliance individually if you want to use it. Still, this certainly beats storing everything in the bottom cupboards! This may not be possible if your apartment comes with most of the appliances you need.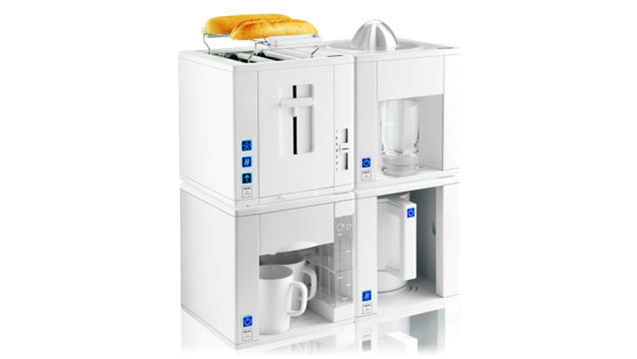 Source: http://gizmodo.com/5948360/space-saving-modular-kitchen-appliance-cubes-assemble-like-voltron
16. Urbio – the vertical garden
If you're living in a tiny apartment you're unlikely to have a lot of outdoor/patio space, if any. Just because you have a small apartment doesn't mean you can't also have a few plants or a whole garden. Bring some life into your living space with the Urbio vertical garden. As seen on SharkTank, Urbio takes advantage of your wall's surface area. The units are modular meaning you can design your vertical garden however you please. Or another idea is to use the string bean wall planter to put utensils in.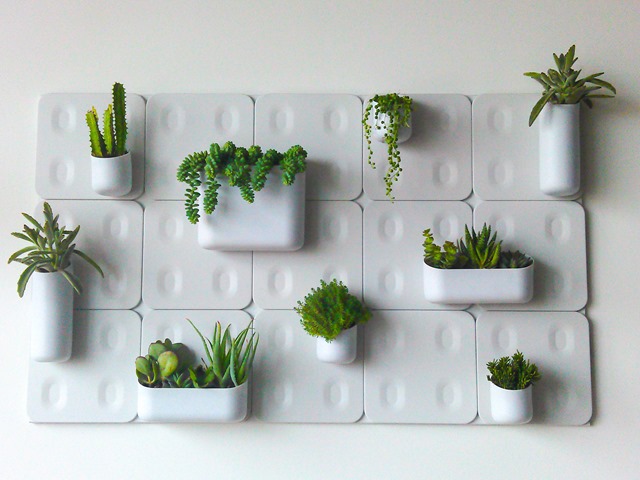 17. Put Junk in a Trunk
Trunks are so versatile. Find the right one and not only will you have the perfect place to put all those board games and a spot to park your drink, but you'll have a nice piece of decor that'll leave your apartment looking quite elegant.
Source: http://www.pinterest.com/pin/58054282670904568/
18. Decorate With Your Servingware
I know you haven't used that serving tray since Thanksgiving. So why not throw a couple of candles on it and spruce the place up a bit? Oh, and that pitcher under the sink that hasn't had tea in it since the summertime, throw a couple of flowers in it, put it on the coffee table, make it look pretty. Your cabinets will thank you.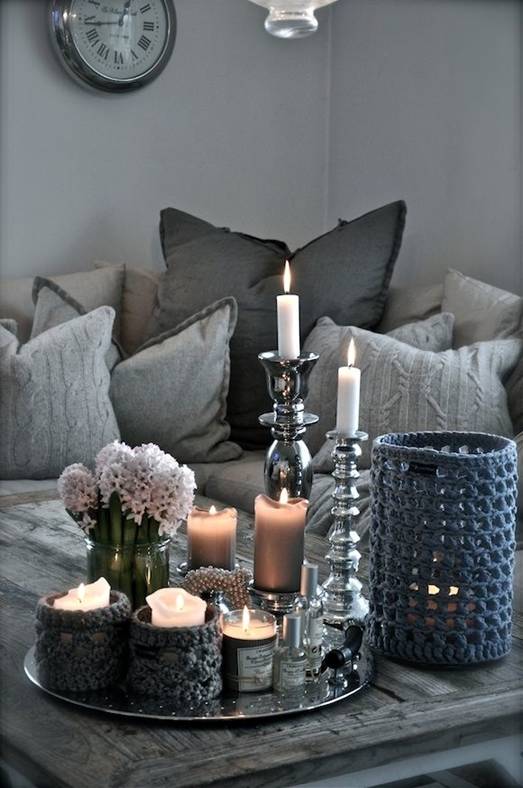 Source: http://www.pinterest.com/pin/149533650099660320/
19. Shelf risers
In apartments there are not only small fridge, but small cupboards. One great way to maximum space is shelf risers. I actually have one in my freezer as well. This allows small products to go underneath and larger products to sit on top, creating twice the space. Shelf risers can be used in other areas of the home as well. Bathroom cupboard?Linen closet? Under the sink? Wherever one fits, you can use one. Double your self space.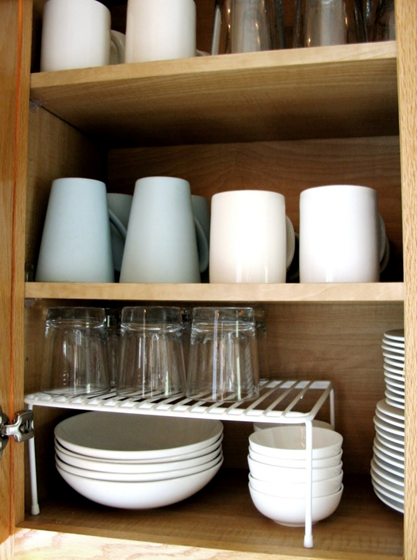 20. Bins
You know what else is fantastic? Bins! Earlier I talked about wicker bins for towels, but bins can be used far beyond that. Bins can come in any size and any style. They can also be stackable! Bins seem so simple, but they can solve a lot of organization issues! Another thing I talked about was using the space under a coffee table. Under tables can be a great place to hold bins. Other places include in closets, under chairs, under sofas, under beds… there's so many places that bins can be stored! Labelling them makes it even easier to find what you need quickly.
On a related note, wicker bins are a great place to store blankets. Blankets can be a real nuisance to store. One great product is the ever popular vacuum bags. This is great if you only need your blankets during certain seasons. As I mentioned earlier, we often have guests, so for us vacuum bags are more of an inconvenience than anything. One easy thing to do is to buy blankets that match your living room. That way draping a blanket over the sofa looks like an accent, and it's super convenient! Simple, but it works.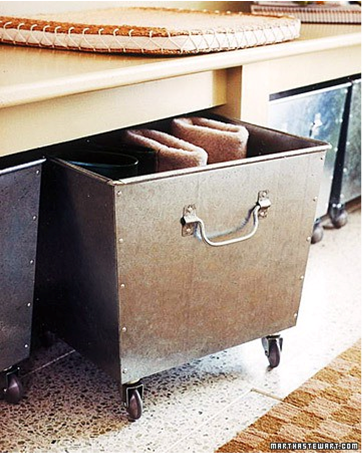 21. Magnetic spice bottles
Something that often clutters up my cupboards and the top of my fridge is spices. Spices tend to get everywhere – even when you have a spice rack. The great solution that I've seen for this is magnetic bottles. The great thing about these is every apartment has a side of a fridge with space available. The other great thing about these is that you could always put things beyond spices in them. You can purchase some here or you may want to go the DIY route with these.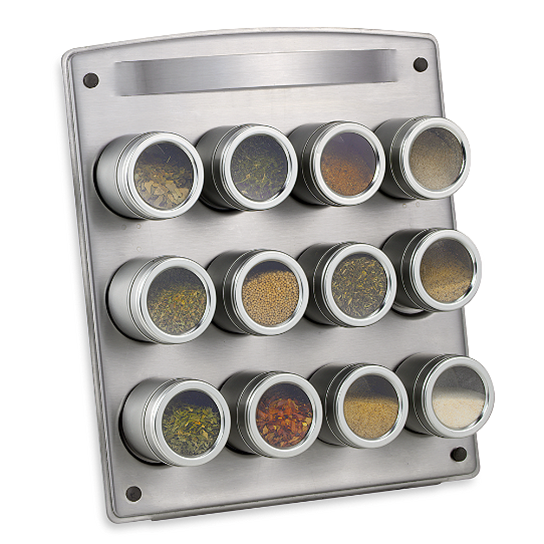 Embrace the Space
It's not always easy living in a small apartment, especially if you're surrounded by clutter. The things you love can quickly turn against you and bury you in a heap of stress and undue anxiety. But try not to panic. Look around. Get creative. The things you have, you have for a reason — and if not, then it might be time for a yard sale.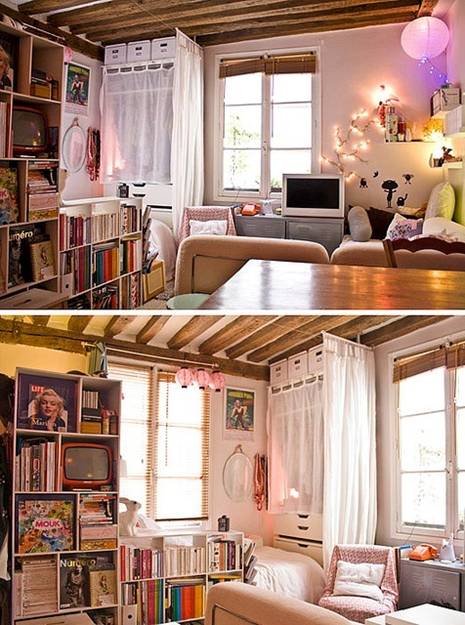 We can't always change where we are, just like we can't always change who we are. That's why it's important to embrace the space you'reliving in and make it work. Happy organizing!
If you found these tips useful please share using the buttons below! Be sure to follow my Apartment Comparison board on Pinterest. Do you have any creative space saving techniques you'd like to share? Please do through social media, contacting me, or using the comment form below.