It can be exciting to look at a new apartment and plan how you will decorate it.  Before you get too far into the moving-in stage, ask questions of your future landlord to decide if this is the right place for you.  While many renters know to ask some basic questions like price of rent and move-in date, there are others that they may not think of until it is too late. Below is our list of questions renters should ask before signing a lease but many rarely don't!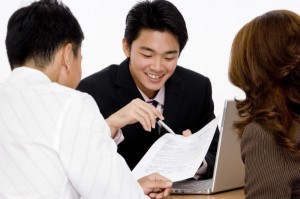 When is the rent due and is there a late fee?
Always know when rent is due.  Don't assume it will fall on the date of move in or on the first of every month.  Find out if you have one day or five days to pay or when late payments will apply.
Can I see a copy of my lease before I sign?
This one question allows you to find out the particulars of the apartment building where you will live.  It should address most common issues, and it should be read through carefully.  Many tenants sign a lease without ever reading it; this is an invitation to problems in the future.
Will my lease automatically renew at the end of the term?
Some landlords require a one-year lease at the beginning, but allow month-to-month for the renewal.  Others expect a new lease to be signed for each term.  If your circumstances may change in the future, you don't want to be locked in for a long term.
While most standard leases are for one year, you can ask if they make exceptions for special circumstances.  For instance, if you will be graduating from college in 6 months, you can request a 6-month lease.  That way, you wouldn't be locked in if you find a job in another city.
What is the procedure for early termination?
While you may plan to stay for the duration of your lease, unforeseen circumstances can require you to move.  You need to know ahead of time what will happen if you cannot finish out your lease.  Many landlords will tell you that you forfeit your deposit, but some will require you to pay out the rest of your lease.
Now is when you should also ask if you are allowed to sublease.  This would give you the chance to honor your lease with another renter if you could not stay.
What are your maintenance hours?
Find out if there is a phone number to call for after-hours emergencies.  Ask them how quickly they respond to calls for repairs and if they will notify you of any outside contractors that will be working in your apartment.
How do I get my security deposit back?
Some landlords do not return a security deposit, while others only require a carpet cleaning to give the tenant back their deposit.  Find out the requirements ahead of time to know how many deductions to expect.
These are some of the most important questions to get answered, but many renters forget to ask them in their excitement of getting a new home. Do you have any other questions renters should ask before signing a lease?
Return to the Apartment Search home page.
Looking for more Apartment Searching Tips?